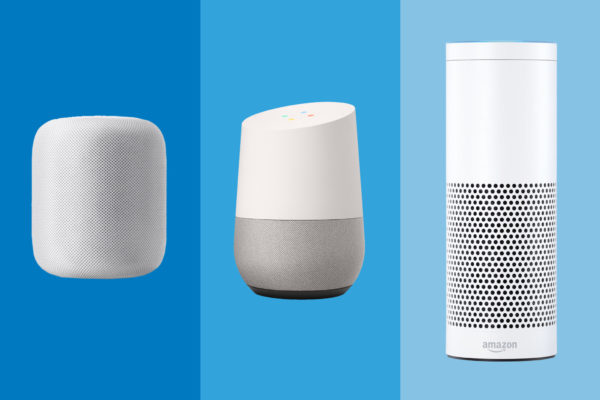 It's 2018 and smart technology is only getting smarter.  We've learned that we simply can not live without our smart phones (remember when we actually used phones to talk to people, cringe)!  And now that same technology is changing the way we live at home.  Welcome to the era of the Smart Home.  Whether it's smart heating and cooling, smart lighting, smart door locks or smart sprinkler systems, there is a smart gadget out there to make your life a little easier or at the very least make you look slightly cooler. Some of the most popular items on the market that connect all of your smart devices together are smart speakers.  One of the most common household names these days is Amazon Echo's beloved "Alexa" who appears to be feeling better after her Super Bowl bout with laryngitis.  Other big tech companies have broken through the market bringing Google Home and the newest device, Apple HomePod to the table. So how smart are these smart home devices? And which best fits your lifestyle?  How smart is your home?
Google Home – Virtual Assistant ($129)
Google Home is second to none in its ability to answer questions (I mean, it better be, it's Google)! It also has an aesthetic design and customizable appearance to match your décor.  It has the ability to identify different voices and help you make hands-free calls (convenient), however, it can't read or send emails (bummer). You can cast video to your TV and audio on multiple devices by using Chrome Cast Audio – pretty neat – and it supports Google Play Music and YouTube music as well as free Spotify accounts. Be sure to take advantage of its music playing, as it has pretty decent sound quality for its size (and price). On the other hand, in comparison to the Amazon Echo, it doesn't have quite as many overall skills – not a huge deal if you aren't going to make use of everything your smart speaker has to offer, but a big deal if you're looking for the most skilled bang for your buck.  Also surprisingly, Google Home's virtual assistance doesn't have a name, it's just called Google Assistant which makes it feels more like a tech gadget than a helpful family member.
Amazon Echo – Alexa ($180)
The Amazon Echo – essentially an intelligent Bluetooth speaker with lots of skills as we mentioned earlier (over 10,000 to be exact). It answers questions just like Google Home does, but isn't on its Google-ing level just yet (you are still going to have to "Google it"). However, it can DO so much more – from order you an item on Amazon Prime to call you an Uber. The Echo also reads audiobooks and news, reports traffic and weather, and can provide sports scores and schedules. It can set your alarms and allow you to start and stop timers. Sounds like a lot of skills? Well it also has the ability to control your light switches and thermostats (if you have smart versions of them). The Echo is like your mini assistant! Just keep it on your desk for daily organization, and of course music (Prime Music, Spotify, Pandora, iHeartRadio, TuneIn) and you're good to go. Do note though, that the sound performance of the Echo is good, but not overly impressive, and it can't be sent to multiple Bluetooth speakers or headphones. Though it does have a nice feature which is an optional remote that you can use for the volume or to speak commands – it's range is about 20-30ft. Also, if you have a Sonos system in your home, Alexa can control your Sonos system using voice commands. Perhaps this makes up for the fact that the Echo is not portable, and always needs to be plugged in. Like Google Home, it can also identify different voices – however, it only speaks one language (English).
Apple HomePod – Siri ($349)
Apple HomePod – is it music to your ears? It is. This speaker promotes the best sounds so far from what we've seen, and can pair speakers together as long as they are Airplay 2 devices (so yes, Android users are out of luck). The main music is Apple music, but you can also play music through any other apps in Airplay. However, you won't be able to skip or search songs from the HomePod commands, you'll have to do this through the connected device itself. It has a nice smart touch for volume, and can also control all HomeKit enabled devices (think motorized blinds and hue lights) – pretty fancy! It can do all this while also handling the usual tasks such as news, weather, traffic information, and the ability to set reminders.  On the downside though, the HomePod doesn't have as many daily skills as the Echo does, and isn't setup for multi-user support yet (and generally just isn't that customizable). Additionally, no Bluetooth connections or WiFi connections are allowed with the HomePod, and you must pair up an iOS device with it (again, Android users are out of luck).
Whether you chose Alexa, Siri, or Google Assistant you are bound to feel smarter, cooler, and more efficient adding a smart home device to your family.  You don't have to clean up after it, send it to college, or feed it; it can order you a pizza, play your favorite song, and adjust your mood lighting so go ahead and add a Smart Home device to your family. It may just become your new favorite member!