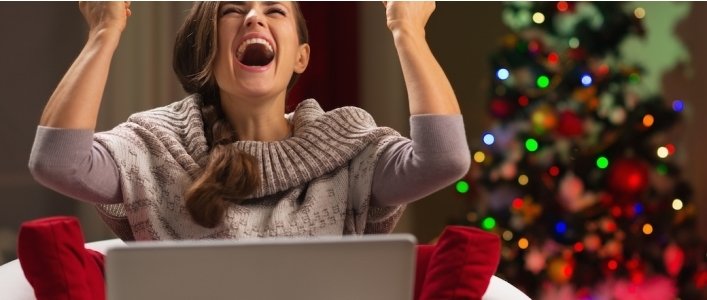 Let's begin with what we all really want this holiday season, peace on earth. We may achieve this on some small level in our own lives by avoiding the mall parking lot. So, put your jammies back on, find your favorite spot on the couch, curl up with your laptop and a cheerful libation. All of the gifts on this list can be found online, and if you are an Amazon Prime Member can be shipped to anyone on your list with free 2 day shipping – saving you from expensive shipping costs, wrapping, and the mile long post office line. I know all this because I'm a mother of 7.  My oldest is my husband 53 (tech. adviser), daughter 13 (insert eyeroll), son 11 (insert bang flip),  2 dogs (insert slobber), and 2 kittens (insert toppling tree).  Although my home is often a chaotic mess of mammals, I have this holiday thing on lock!  I'm also a Support Coordinator here at Diligex, so I'm surrounded by Techies (and their tech toys banter) all day long!  So, without further delay here is our curation of last minute tech toys for the techies on your list.
Kids – My First Laptop
What could be cuter than a baby laptop?  Check out the Kidz Delight Tech Too My First 2-in-1 Tablet
Kidz Delight has a range of tech toys for children ages 2-5yrs to get them started young. They can learn their letters, numbers, and animals while becoming familiar with keyboards, laptops, cell phones, and tablets. Having their own tech toys will also help keep yours from sustaining drool and Cheerio damage. Please note – regardless of what you buy your child will prefer the cardboard box it came in. 🙂
Teenagers (the impossible made possible) – Gaming Console
This elusive gaming system came out last year but has been nearly impossible to come by. Luckily, this year they seem to have committed to making them more available and have released several compatible games. This gaming system although small in size and stature, packs a big punch with the teenage crowd. It allows you to play with friends and take your game on the road by simply unplugging from the TV console and switching to the handheld screen. This will save both their screen lives and your sanity when you tell them it's time to go.
Mom – Nanny Cam / Baby Monitor  
DMZOK Mini WiFi Camera, Wireless Security IP Camera, Nanny Cam, HD 720P Home Security Camera with Night Vision Two Way Audio Motion Detection, Baby Camera Pet Monitor
These have a wide variety of uses beyond the obvious and for years beyond childhood. Nanny Cams have really progressed a lot in recent years and now have a feature that allows you to both see and hear what is happening at home, and gives you the ability to be heard through a speaker. Their features can be utilized anywhere by downloading a compatible app. This can be used to simply hush a crying baby back to sleep, tell a teenager to start their homework and put the video controller down, yell at Fido for eating your favorite slippers, and even tell your husband/wife to stay out of the chocolate stash.
Dad – Smart Watch
Fossil Q Marshal Digital Display Stainless Steel Touchscreen Smartwatch
Smart Watches have come a long way from the coveted Apple Watch. They come in a variety of fashionable styles and this specific watch is compatible with Android OS 5.0+, iPhone 5/iOS 9.0+, Smartphone App. They offer a variety of services – some of which include tracking fitness, controlling music, controlling/receiving smart phone notifications, touchscreen functionality, speaker/sound functions, alarm/reminder functions, oh and they tell time!
Grandparents – Smart TV but cheaper
For roughly $30 you can make any TV with a HDMI port a Smart TV. This means that although you had to travel over the river and through the woods, you can still binge watch your favorite shows when you get there.  You can also show G-ma and G-pa what you've been up to on your Insta, Facebook, and Snapchat accounts.  Side note – they will want you to set them up with accounts as well.  This may take until the New Year to complete, but when you get random pics of your elders with puppy ears and flower chains on their heads, I promise it will all be worth it.
Pets – (and because no one likes to vacuum)
iRobot Roomba 690 Robot Vacuum with Wi-Fi Connectivity
Both you and your pet will love this self propelled vacuum! It does double duty as pet entertainment (you can adorn it with ears and a tail) while sucking up pet hair and other messes while you create YouTube videos of your pets antics. These dirt busting powerhouses can navigate your home and furniture over multi-surfaces and many can be controlled with an app on your smartphone.
We hope this list alleviates a little stress for you this holiday season!
Cheers and Happy Holidays from all of us at Diligex.