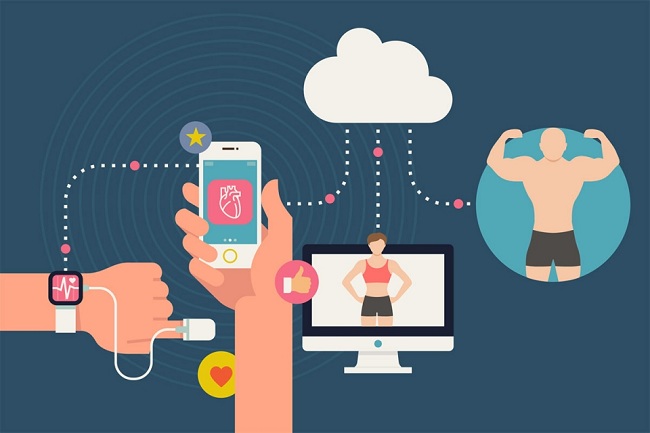 Technology – Get up and Use it!
For those into fitness, you are well aware of the technology options that are available.  It's become a big market and is constantly being updated and upgraded.  Not only can you track your fitness routines, but you can also keep your social media friends updated as you progress through workouts, or after you've accomplished your goals.  You can even be followed during a big event to alert your fans of your progress and milestones!  From wearable technology and fitness apps, machine technology to high tech clothing, how do you maneuver through all the bells and whistles to decide what is right for you?  There are many stages of fitness, and that might be the best place to start.  From beginner to advanced – from a walker to a triathlete – you can choose what best suits your needs, fitness level and goals.  And not to mention – be stylish wearing it as well!  Here is our recap on technology to keep you healthy and fit.
Wearable Tech and Fitness Apps
To start off, wearable technology might be most popular.  Some of the watches on the market can tell you when to stand, keep track of activity, and even monitor your sleep patterns to make sure you're getting enough rest.
The Apple Watch series, Oura Ring, Garmin and Fitbit are good examples of devices you can wear anytime.  The stylish models even look good when you're not racing around the track!  You can keep constant record of your body's readiness through your variable and resting heart rates and sleep.  With each new release, new features are added – such as electrocardiogram (ECG) in some of the newest models.
The Oura ring registers body temperature, setting a baseline even while you sleep.  The ring will measure your blood volume and will be able to detect your body's movement to track activity so you can maintain readiness and help grow and improve.  The Oura App is available for both iOS and Android.  The app will guide you through the day and allow you to add notes or tags as you review.
Another gadget that will give you access to your daily analytics is the Whoop Strap.  The Whoop Strap is free with a paid monthly membership.   The membership gives you access to view your daily workouts, monitor your sleep and measure recovery.  It will also provide you community events that you can be a party of, with like-minded individuals or teams.  This will help to keep you motivated and challenged so you can better achieve your goals and celebrate the win with your team.
Garmin products can enhance your training with virtual trainers, interval training and multi-sport timing.  Whether you're on foot, on the bike or in the water, the Garmin devices will keep track of the distance, pace, laps and heart rate during your workout routine.  For the triathlete, it will even automatically switch from the water to the bike to the run without having to hit a single button.  You can synchronize your smartwatch to the Garmin Connect app to analyze, track and report on your workouts.
Machine Technology
Joining in the race with Nordic Track and Bowflex, are a few newcomers that have recently gained popularity.  Peloton, which started with a stationary bike, has moved to include treadmills as well.  You can train with others all across the country or world, with many different fitness levels and challenges to choose from.  You can compete with others, or simply just get a great scenic workout.
Along the same lines of the Peloton, you can use your Garmin technology with a few trainers as well.  You can ride on a stationary cycle or connect your favorite bike to a trainer for all the same effects of riding on the roads.
Zwift can give the runner or the cyclist easy access to challenging courses and events through live streaming video on your smart device – at the gym or in your home, on your own treadmill or trainer.  Free trials enable you to take it for a test drive.  The workouts are geared to your ability and goals, targeting your strengths and weakness.  You can choose from over 1,000 structured workouts, so you'll never get bored.
Mirror has also changed the way we take fitness classes and interact with those with the same fitness interests.  You can train with experts, workout with friends, or simply compete with yourself.  Varied workouts from Yoga to Kickboxing, Dance Cardio to Weigh training are available.
High Tech Clothing
Under Armor or Rhone have made reactive material and fabrics popular and stylish.  The clothing reacts to the body's temperature and perspiration.
Moisture wicking fabrics move sweat away from the body to remain dry and avoid chafing.  Thermal technology helps keep the body warm while exercising outdoors in the cooler weather.  Lastly, compression fabrics have allowed for increased blood flow to the muscles while engaging in your activities.  It also adds support to help in avoiding injury.
Smart clothing has become popular as consumers utilize their smart devices during their workouts.  Although more difficult to find and a bit more expensive, these tend to be for the more serious athletes.  The different athletic apparel can monitor your heart rate, respiratory activity and even your posture.  Sensoria A.I. Sportswear has a wide selection of smart clothing should that peak your interest.
Wrap Up
Just as your iPhone or Android device is ever changing and improving, so is fitness technology.  Keeping informed on the landscape of sport technology will help you enjoy your workouts whether training for the big event or just staying in shape.