Remote Desktop is available to all Diligex Managed computers.  It allows you to remote into your work computer from a remote web browser.  It's a convenient method to access your data and core applications.
Although streaming media, audio, video from your work computer will pass through to your local computer over the remote connection, the performance may be sub-optimal.  We recommend that you conduct video calls, do streaming, play music, etc. through your local computer.
The following are not supported:
Printing from your work computer to a local printer
Scanning from a local scanner to your work computer
Webcams from your local computer to your work computer
Remote Desktop Prerequisites
We recommend using Firefox, Chrome or Safari to initiate remote access.  Internet Explorer is not supported
Pop-up blockers must allow the site: diligex.hostedrmm.com
Your employer needs to approve the setup of remote access.  If you never received an invite with a remote access confirmation code from Diligex, then you likely do not have remote desktop access setup and need to request it from your employer.
Remote Desktop Instructions
Go to http://diligex.com
Click the Login link from the top Navigation Bar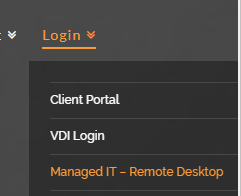 Click Managed IT – Remote Desktop
Login with your email address and password that you set during the initial remote desktop invite.  Note: the username/email is case sensitive – please check the original invite email for the exact email address that was specified.
If you forgot your password or are having trouble logging in, please open a case here or email help@diligex.com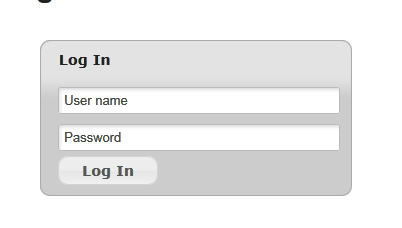 Note, all other sections on this logon page should be ignored, they are not functional.
Once logged in, click Computers Box (all other sections on this page should be ignored, they are not yet functional).
You should now be presented with a list of computers that you have access to log into.  Please click the machine that you would like to login to.
Next click the 'Remote Access' button.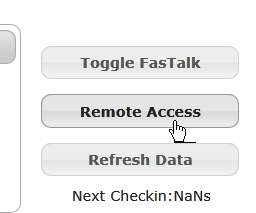 A screenConnect.Client application will now download.  Open this file.

You are now connected to your machine.
Please note the top Toolbar of the screenconnect client, from there you have the option to send CTRL-ALT-DELETE.  This may be required to bring up the login fields.

You can also access Send CTRL-ALT-DELETE by clicking the lighting bolt icon in the top menu

The top menu can be used to switch monitors, transfer files, enable sound pass through, etc.