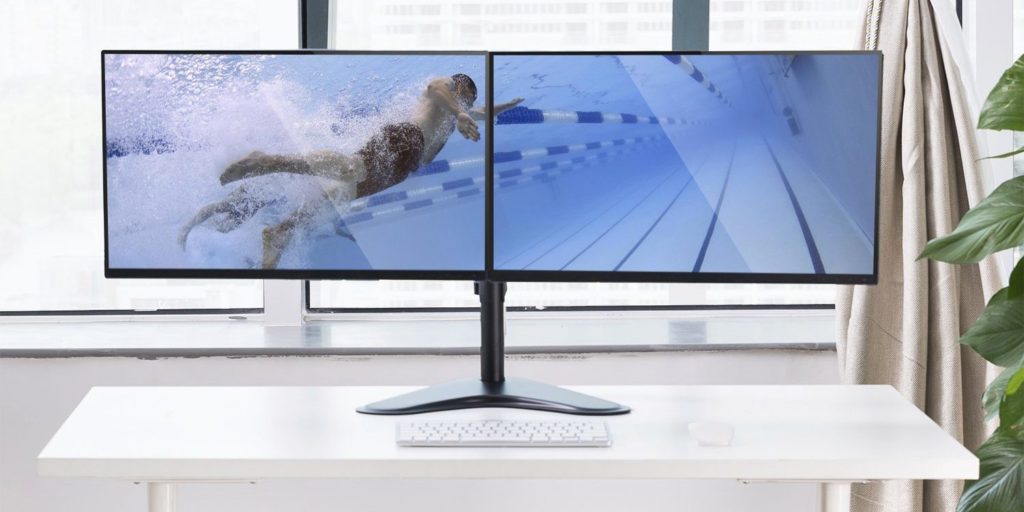 In our busy work lives, we are constantly trying to find ways to work more efficiently and effectively.  Using dual monitors may be one way to increase your productivity, helping you get the job done. Besides creating a cool "command center", it has been proven to provide better productivity and increase quality as well. But are dual monitors the right option for you? Here are a few things to look at when when answer the question Are Dual Monitors Right For Me.
Benefits of Dual Monitors – The Pros
Microsoft research and the New York Times have stated that users can increase productivity – sometimes up to 50% by just adding that second monitor.  It provides a positive return on investment by improving the general computing comfort and productivity almost immediately.
By having multiple displays at your disposal, you can create more desktop viewable space. This provides the ability to work with functions such as comparing documents, reviewing research while working on a task, and generally the ability to multitask more effectively.
For instance, my job role requires me to review and monitor dashboards and internal communications at the glance of an eye. Dual monitors save me a ton of time. A second monitor enables me to keep an eye peeled on our stats dashboard while still maintaining communications with clients and staff. All the while updating documentation and notes for my daily tasks. I am also able to keep an eye on my calendar so as not to miss any upcoming appointments or tasks. My dual monitors make me more productive in our fast-paced work environment.
In more testing, Dell conducted studies on dual monitors with specific tasks.
Tasks were completed 2.5 seconds faster.
Dual monitor users spent 5% less time switching/minimizing windows between documents and applications.
When getting feedback from the test subjects, they all agreed that the dual monitor set up allowed for better use in general and a more pleasant computing experience.
In another study conducted by Jon Peddie Research, they found that productivity increased nearly 42%.  They also found while conducting the study that dual monitor use went from 20% in 2002 to 90% in 2017.  This suggests that dual monitor configuration may be the norm instead of the luxury. 
Are Dual Monitors Right For Me? – The Cons
There are a few things to consider in order for you to see the productivity increases that come from using dual monitors. Having a second monitor just because everyone else does – or it looks cool – is not a good reason in itself.
Taking the next few topics into consideration, you can decide whether the dual monitor option is right for you. What works for some, may not be a good solution for others.
Maintaining focus
The human brain is only able to focus on one thing at a time.  Some may find that having multiple windows open may lead to distractions. Having a social media feed or email open right next to a document may cause you to loose focus on reading or creating the document. This could lead to being counter-productive in your daily work. Be cognizant of attention stealers and make sure you're adjusting the windows in view according to what you're actively working on.
Main monitor
In some case, you may find yourself moving the work you are concentrating on to your "main" monitor, or the one directly in front of you. For that reason, you may really only be benefiting from the single monitor and be wasting that second monitor all together. Don't use a second monitor just to store other Windows and applications – that's what the taskbar is for!
Workspace clutter
A second monitor does require space on your desk. If you're like me, a neat and clean workspace is paramount to mental well being. If there is a lot of clutter on your physical desk, that can become distracting in getting work done. A clean work environment is just as important as a spacious one. If you're lacking the physical space for a second monitor, then I'd recommend a dual monitor stand, which can hold two monitors at the same physical footprint of one stand.
Fear of "undocking"
Once you go dual, you don't go back! After getting used to dual monitors, it can be very difficult for some to work on a single screen, especially something that is 13-15″. I personally feel way less productive when working from my laptop and lone screen. I don't let this prevent me from undocking when needed though. If you set the expectation with yourself that you will be less productive, you can schedule work around being away from your large dual monitors. Undocked time is great for creative writing, catching up on email or video calls.
Conclusion
Your work role may be the best gauge for whether dual monitors will benefit you. Dual monitors may not be the right fit for all, but may improve the overall computing experience for many.  It is necessary to weigh out the pros and cons yourself after doing the research.  If it makes productivity sense, then the investment will be well worth it in the long run.