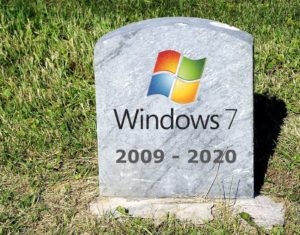 The end is coming for one of the most widely used pieces of technology in existence today! In less than a year, Microsoft will be officially discontinuing support for the operating system Windows 7 after nearly eleven years. If you've used any computer during that time, there is a very high probability that it was running Windows 7, considering how many computers are still running it today. So exactly what role does Windows 7 fulfill within a computer and how does this discontinuation affect you? Let's discuss the finer details behind what impact the end of Windows 7 has on you, your business, and our computing world as a whole. The End is Coming for Windows 7.
What is Windows 7?
At the core of your computer's software lies it's most important software component: the operating system. When interacting with any applications or files, you are doing so by performing actions within the operating system, which translate to the results you see on your screen. Your operating system plays one of the most critical roles in securing your information by receiving patches and updates regularly from its manufacturer – to protect it against new and ongoing threats being constantly developed by malicious groups. If you are currently a Diligex Managed IT subscriber, you may be familiar with our existing practice of managing, automating, and validating the patching process for you. The operating system patches that we provide for computers, including those running Windows 7, are provided by their respective manufacturer and distributed through our proactive systems.
What is being discontinued?
Effective January 14th, 2020, Microsoft will be terminating extended support for Windows 7. At that time, no further security updates or patches will be released for the operating system and Microsoft-provided technical support will be discontinued.
Will my computer still work if it's running Windows 7?
At it's core, your computer will continue to operate after January 14th, 2020 if it is running Windows 7. However, extreme caution should be used when continuing to use it. With no additional security updates being released, the computer will be susceptible to malware or vulnerabilities that may be discovered. Such threats will continue to remain unpatched and will leave your computer at risk of being compromised.
What does this mean for my business?
Computers within your business that are running Windows 7 will become a threat to your company's data security following the termination of Windows 7 extended support as mentioned above. If your business is bound by standards or regulations such as HIPAA or PCI, taking action is especially important, as not maintaining current patches and supported operating systems can have a negative impact on your company's compliance.
The security of your data is a vital component of running your business. If your company currently has computers that are running Windows 7, please contact Diligex by clicking here. A member of our team will discuss your available options with you and help implement a solution that fits within your company's goals and budget.
Are there any considerations I should think about before taking action?
We wish that we could promise that it will be as simple as a few clicks. However, when replacing a computer or upgrading an existing unit's operating system, there are many things that have to be taken into consideration. For example, what applications are considered vital within the computer that must continue to function? A qualified team such as ours here at Diligex can analyze the software in use and determine whether it will be fully compatible with an up-to-date operating system such as Windows 10. If it's not, we'll work with you to plan out alternatives.
In addition to software compatibility, the capabilities of the computer's hardware need to be considered. Although many computers that are running Windows 7 today are compatible with Windows 10, older computer hardware may not be able to benefit from all of the new features that it provides, such as enhanced device encryption. In most cases, upgrading an existing computer from Windows 7 to Windows 10 will require the purchase of a new license, whereas most new computers come with it included. So while an existing computer may be compatible on paper with Windows 10, it may be in your best interest to replace the computer entirely for both feature compatibility and the best return on investment.
Conclusion
Although Windows 7 extended support is still active for another ten months as of the time of this post, it is imperative that you take action soon in order to complete a transition process properly and with time to spare. Windows 7 usage globally is still very prominent, so demand for upgrades and replacements will be at an all time high this calendar year. As per NetMarketShare, Windows 7 still accounts for 38.41% of operating system usage as of February 2019. By contacting Diligex today, you can secure your spot and help ensure that your business security and stability remains strong.
Windows 7 is coming to an end. But with the right guidance from Diligex, you can continue to focus on running your business and let us handle the logistics of keeping your company's network safe. Contact us at any time at https://diligex.com/contact and a member of our team will be in touch!