Diligex Deploys its Tray Icon to all Managed IT PC's, Mac's and Servers.  The Tray Icon is the preferred method of creating a service ticket for your machine, as it automatically sends the machine name with the ticket.  Further, it allows the end user to include a screenshot of any errors on the screen.
The Tray Icon also provides quick access to system information and the Client Portal.
Contents:
Where to find the icon
| | |
| --- | --- |
| Tray Icon looks like this | |
On MAC, the icon is found in the top icon bar
On Windows, the icon is found in the tray notification area on PC (in the lower right corner near the clock)
Showing the tray icon on a PC
If you don't see the Tray Icon, your PC is likely set to hide icons by default.  You can tell your PC to show the icon by clicking the double carrot (up arrows) in your Tray notifications area, then click customize.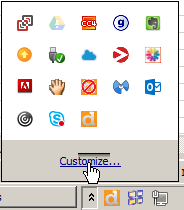 Find the LabTech Tray / Diligex Managed IT icon in the list and set it to 'Show icon and notifications', then click OK.

Tray Icon menu options
| | |
| --- | --- |
|  PC Menu | MAC Menu |
| | |
Send Status – Sends Diligex the status of your machine (not used).

Screen Capture – Sends Diligex a fresh screenshot of your machine (not used).

Update Inventory – Sends Diligex current information about your machine (not used).

Create Service Ticket – Creates a service ticket in our system.  Allows a screenshot to be attached to the ticket.

See Service Ticket Status – Takes you to our Client Portal, where you can see the history of all tickets including those being worked on (PC only).

System Information: Provides a Diligex Technician with useful information about your PC, such as the computer name.

Help – Takes you to this webpage.
Creating a service ticket
Creating a service ticket from the tray menu is fast and painless.  Just make sure that your work email address is in the from field, give a brief description in the subject field, a detailed issue in the body, and attach a screenshot if you would like.
PC Create Service Ticket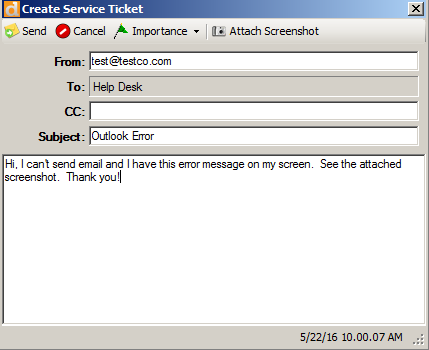 MAC Create Service Ticket