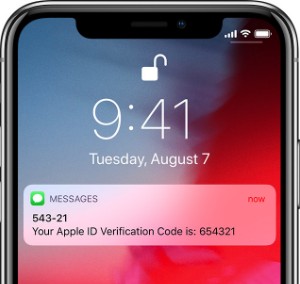 Lock screen notifications on your cell phone are a big convenience. Being able to access incoming information at a glance is very helpful and can help increase your efficiency. This convenience though, can come at a price. In most cases, your cell phone's lock screen is showing all details associated with the notification. When associated with potentially sensitive information, such as your text message notifications, parts of your private conversations can become public. Many people don't know that you can actually configure your cell phone's lock screen to only show generic portions of your notifications and thus locking the sensitive information away from prying eyes. Let's take a look at The Risk Of Showing Text Message Previews On Your Lock Screen and how to disable them.
For this article, we'll be focusing on cell phones running either iOS (such as iPhone) or Android as their operating system. If your cell phone runs a different operating system, please consult your user manual for further information.
Why should I?
If your settings are like the majority of people, you receive notifications on your cell phone's lock screen that contain the notification's pertinent data. This allows you to check the notification and decide if you want to take action without needing to unlock your cell phone via PIN, fingerprint, Face ID, or whatever security method you may use. The notification may look similar to the following sample.

Although convenient, this places private data at risk of being seen by unwanted eyes. Imagine that you're in the middle of a private text message conversation with a friend about personal matters or with a colleague regarding internal business information. Now imagine you put your phone down to use the restroom or tend to an errand. Any information sent to your cell phone while not in your possession is going to be accessible to any party within view of it.
Let's imagine an even worse scenario: loss or theft. If your cell phone were to become lost or stolen, whoever ends up in possession of it will have access to the messages of any incoming texts you get while the phone remains active.
There are many situations where having the details displayed on the lock screen can be a security risk. The following are a few examples.
Multi-Factor Authentication – You are most likely using multi-factor authentication in some regard today. Whether it be for email, Facebook, Twitter, your bank's website, etc., you may receive a temporary security code via text message in order to complete your login process. If someone were attempting to maliciously gain access to your accounts and could just be within visibility of your cell phone's screen, they could utilize the lock screen notification to grab your Multi-Factor Authentication code as part of a hack attempt. For further information regarding Multi-Factor Authentication, please click here to read my recent blog post on the topic.
Sensitive Business Data – Depending on your line of business, you may be using text messages to communicate with colleagues or even clients. If any sensitive data is being transmitted, displaying them on your lock screen is a security risk for the confidential data.
Private Personal Information – Whether it be with friends, family, or a significant other, you may be having open discussions regarding matters that are not meant for the eyes of others. By not displaying the details on your lock screen, you can still know when you have a message to check but allows you the opportunity to wait until the visibility is private.
How Do I Disable The Notifications On My Lock Screen?
Here's a quick KB article on how to control lock screen notifications.
Conclusion
By disabling the text message preview on your lock screen, your private text message data can be remain just that: private. Here at Diligex, we use industry-leading security measures to help keep your data safe and secure while also providing ease of access and convenience. If you're a Diligex Managed IT subscriber and have any questions regarding the security of your data, feel free to reach out to us at https://diligex.com/contact. If you're not a Diligex Managed IT subscriber and would like information about how we can help keep your company's data secure, feel free to contact us as well at https://diligex.com/contact and we'll be in touch!