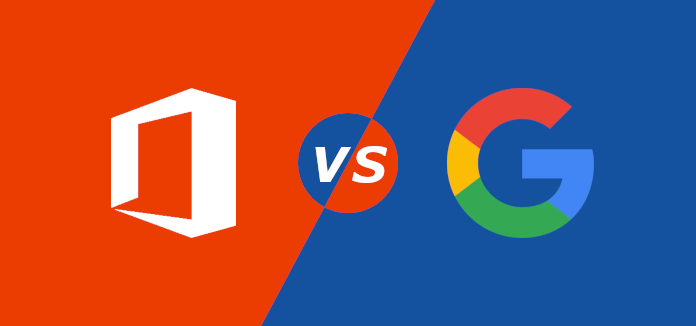 If you are starting a business or if your existing company is in need of a technology refresh, cloud-based email and collaboration services should be near the top of your list of ideas. The landscape of technology today calls for always-available connectivity and data accessibility without the convoluted methods of the past. Services like Microsoft Office 365 and Google G Suite aim to satisfy that standard with a multitude of always-on tools provided to enhance your productivity.  You've likely landed here with a question that we hear quite often: Should my business choose Office 365 or G Suite?
Both Office 365 and G Suite provide users with a large selection of tools and services. But which one is best suited for your business? While both services share many similarities and have a proven history of satisfaction, each contains unique qualities that can make a difference when choosing the one that is right for you. In this article, we'll look at the similarities and differences between Office 365 and G Suite to help you choose the one that is best for your business.
What are they?
Microsoft Office 365 and Google G Suite are each a collection of products and services designed to help your business communicate, collaborate, and maintain organization. Services offered through Office 365 and G Suite include hosted email, instant messaging, and multi-user real-time document editing, among many others. The core demographic of both services are businesses looking to enhance the efficiency of their operations while lowering upkeep.
While both Office 365 and G Suite are focused around the same goal, each implements their solution in its own unique way. As a result, the product that is right for you may not be right for everyone.
Which is the right choice?
To help you choose the service that is right for your business, let's review the key differences between Office 365 and G Suite.
User Interface
As we mentioned above, each product is implemented in its own unique way. This results in vastly different user interfaces that may cater to or even push you away from a choice.
Office 365 – Anyone who has ever worked within Microsoft products such as Word, Excel, or Outlook before will be instantly familiar with the product design of Office 365. Microsoft has designed all of their cloud-based services to use the same design qualities and behavior as the desktop Microsoft Office suite that millions of people have grown familiar with for nearly 30 years. And with most plans, Office 365 also includes the desktop Microsoft Office suite that you may know and love at no additional cost.
G Suite – With Gmail being the most popular email client in the world today, there's a good chance that you are familiar with Google's email interface and the design of their connected products such as Google Drive. G Suite uses the same interfaces and adds additional features and enhancements. Although Google does provide some utilities to work within locally installed desktop apps, G Suite is designed to work best when working via web browser.
The choice regarding user interface is going to be entirely dependent on preference. But with the added value of Microsoft Office desktop apps being included with most plans, we recommend Office 365 for its larger selection of interface choices.
Feature Selection
Within each suite is a great selection of products that can be made available to subscribers. The product list continues to get expanded over time as new ideas are developed.
Both suites contain many of the same features within their products so let's focus on some items that makes each suite stand apart from the other.
Office 365 – The following are some products that are not available within G Suite or are vastly superior to G Suite's offering.

Teams – While both suites include chat functionality, Microsoft Teams has become a proven reliable solution for instant collaboration when compared to G Suite's Hangouts which has gone through multiple iterations and a full replacement in the past few years.
Bookings – Earlier this year, I wrote a post on our blog regarding hidden features in Office 365. Microsoft Bookings was my clear cut first choice to discuss. Bookings allows you to setup hosted pages that your clients can use to book appointments on your calendar and eliminates the need for tedious follow ups and the sending of calendar invitations. G Suite simply does not have a worthwhile competitor at this time.

G Suite – The following are some products that are not available within Office 365 or are vastly superior to Office 365's offering.

Cloud Search – Google's services were born and raised in the cloud. G Suite includes a feature called Cloud Search that takes your searches outside of the product you're working in and allows you to query across the entire product line for the data that you are looking for. While Office 365 does have a content search feature, the scope of its search is limited when compared to G Suite.
File Compatibility – Google Drive (G Suite) and Microsoft Office (Office 365) each use their own specific file formats for documents. While each has the native ability to read their own, G Suite is the only of the two that has the native ability to view and edit the file formats of both.
With a similar product selection, neither choice here would be a bad one. But we'll give the advantage here to G Suite for its larger file compatibility due to its ability to also interact with Microsoft Office documents.
Available Plans
G Suite and Office 365 each have multiple business plans to choose from. When determining your desires and requirements, you may find that one suite offers a more tailored solution than the other. Please note that we are not including Education or Non-Profit plans in our comparison.
The two suites take a different approach towards their plan offerings:
G Suite provides three tiers for their plan: Basic, Business, and Enterprise. Each one includes the features from the previous as well as additional enhancements and security options. Pricing starts at $6.00 per user per month.
Office 365 is available in a large amount of tiers within the categories of Business and Enterprise. When researching, you may come across names like E1, E3, Business Premium, just to name a few. Pricing starts at $5.00 per user per month.
With its large selection of plans to choose from, we give the win here to Office 365. There is a very good chance that there is a plan perfectly suited to your company's needs.
Security
You may be familiar with the phrase "a chain is only as strong as its weakest link". With Office 365 or G Suite, all of its usefulness would mean nothing if it didn't come with strong security to help protect you and your company's data.
Office 365 and G Suite both provide enhanced data protection via server-side encryption, eDiscovery tools, archiving, and data loss prevention. However, if you would like the option of sending end-to-end encrypted emails for messages containing sensitive data, Office 365 contains the built-in functionality (plan dependent) whereas G Suite will require a third party security add-on.
When interacting with your email, you expect that a large amount of spam and phishing attempts will get seized by automatic protection filters. Both Office 365 and G Suite provide comprehensive spam and phishing protection natively. Office 365 though also offers additional protection through their Advanced Threat Protection (ATP) service which uses enhanced threat intelligence to protect against a larger amount of threats, provide real-time reporting, and initiate automated investigations. ATP is included with some Office 365 plans and available as an add-on for others. For similar protection, G Suite would need to be integrated with a third party service.
Security is a top concern for both Google and Microsoft. You can feel confident that both solutions will provide you with enterprise-class protection. But with its ancillary options available via Advanced Threat Protection, our recommendation in the Security category is Office 365.
Conclusion
Millions of people rely on Office 365 or G Suite everyday to keep their business thriving. Both products can provide great value to your organization and help you stay focused on what truly matters: your company's growth and success.
At Diligex, cloud-based technology is one of our specialties. Our team includes seasoned veterans of both Office 365 and G Suite use, deployment, and administration. While the choice of which to use may be tough, Diligex can help make the setup easy and be your trusted advisers as you use it to enrich the productivity of your staff. We'll help you choose the product and specific plan that is best for you!
If you are not currently a Diligex Managed IT subscriber and would like to discuss how Diligex can help your business thrive through the use of Office 365 or G Suite, feel free to contact us at https://diligex.com/contact and we'll be in touch.
If you are already a Diligex Managed IT subscriber and would like to discuss your existing Office 365 / G Suite subscription or would like further information on how implementing one could help your business, let us know and we'd be happy to setup a time to chat.
With Microsoft Office 365 or Google G Suite, your company can take their productivity to the next level. And with the power of Diligex supporting you, there's no limit to how far you can go!