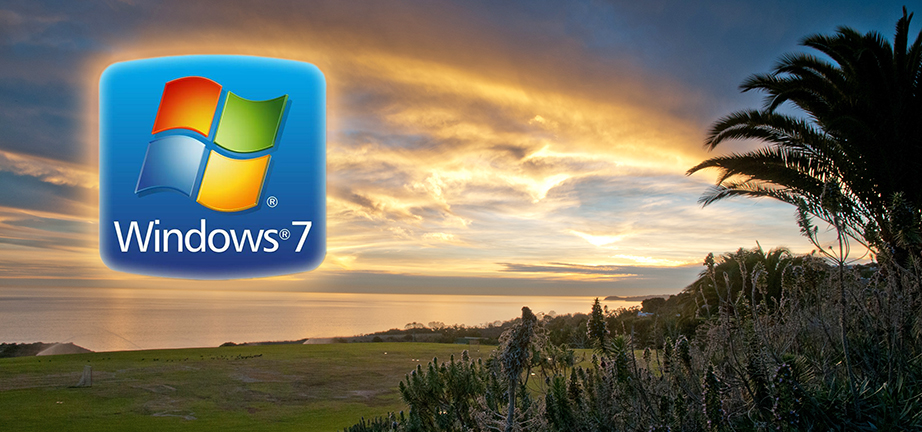 This year flew by fast!  It's December 2019 and some of your Microsoft products are due to reach end of support in a few weeks. Specifically, Windows 7 and Server 2008 are being retired on January 14th, 2020. What does this mean for business and home users who are still running these operating systems? Read on… You're Still On Windows 7 – Now What?
As we reported in an earlier blog post, after January 14, 2020, Windows 7 and Server 2008 will be extremely susceptible to viruses, ransomware, malware and other vulnerabilities. Here's Microsoft's quick and dirty explanation of what happens when Window 7 support ends.
Here at Diligex, for the past year, we've been busy working with our Managed IT customers on an upgrade path to Windows 10 and a supported Server operating system.  As of today's post 93% of our covered machines are compliant and we expect to be at around 98% compliance by January 14, 2020. What's our plan for the 2% of non-compliant machines come January 14th? And why aren't we at 100%?
As with many other organization, our customers will have some extenuating circumstances where specific machines must stay on a Windows 7/2008 operating system.  Some line-of-business applications may not yet be compatible with Windows 10. Mostly though, it's a matter of time and resources. So many machines, so little time!
As shown below by NetMarketShare.com, Windows 7 is the installed OS on about 30% of all desktops/laptops worldwide. And within the Windows landscape it still accounts for almost half of all Windows desktop/laptop installs.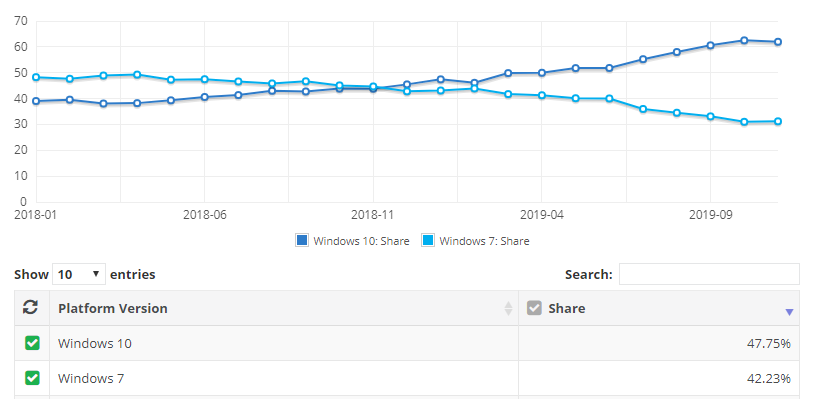 There's an obvious correlation between Windows 10 gains and Windows 7 declines.  People are upgrading, just not as fast as Microsoft would have liked. Surely Microsoft can't just leave Windows 7 machines and their customers vulnerable to security exploits, right?
ESU To The Rescue!
In late 2018, Microsoft announced that Extended Security Updates (ESU's) would be made available for purchase to customers running Windows 7 Enterprise and Windows 7 Professional via a Microsoft Volume Licensing. This relieved IT Managers in large enterprise environments, but what about smaller businesses who don't have Volume License agreements? Fortunately last week, Microsoft made ESU's available to small businesses via a Microsoft Cloud Solutions Provider (CSP) such as Diligex.  ESU's will be available for 3 years with a price ramp-up which basically doubles the cost each year. Per devices costs are:
Year 1 – $61
Year 2 – $122
Year 3 – $183
So, ESU's can be purchased through the proper channels, but how do you actually use them to ensure that Windows 7/2008 continue to receive updates? Microsoft surely isn't making it easy. Actually using a ESU once purchased isn't exactly trivial. The machine an ESU is being applied to needs to have prerequisite KB's installed and then some command lines need to be ran to change the OS product licence key and activate it. Unless you have admin rights to your machine and some SysAdmin skills, you're unlikely to be able to perform this yourself.
In Conclusion
While ESU's are essentially a tax on Windows 7/2008 machines, they are also a sigh of relief for Managed Service Providers and small businesses alike. If you're a small business and still running Windows 7 Enterprise or Professional, you should reach out to your CSP immediately to discuss purchasing and activating an ESU. If you're not sure who your CSP is or don't have one, drop us a line, we'd be glad to help. If you're a home user running Windows 7 Home Edition, unfortunately you're out of luck. The only path for you is to upgrade to Windows 10.